STABISAN
Prevent and cure calf diarrhea

Prevent and cure calf diarrhea
STABISAN increases the vitality of sick and weakened calves.
Why it is important to treat calf diarrhea.
Calf diarrhea plays a role in almost every farm. No other disease causes more calf losses than diarrhea. A combination of effective prevention and timely treatment of acute diarrhea is therefore essential to minimize economic losses.
STABISAN stops calf diarrhea with natural ingredients and quickly gets weakened calves back on their feet with the necessary electrolytes, vitamins and herbal extracts.
Prevent and stop calf diarrhea with STABISAN
THE EFFECT

STABISAN relies on natural apple pectin for high water retention and contains lactic acid bacteria, live yeasts and mucilaginous substances for rapid development and optimal protection of the intestinal villi. Yeast extracts ensure the complete removal of bacteria and toxins.

THE BENEFIT

Taking STABISAN promotes healthy intestinal flora and increases general resistance. The ideal condition for a natural cure of nutritional diarrhea. With STABISAN you can prevent calf diarrhea and effectively stop acute diarrhea.

THE ADVANTAGES

High water retention

Effectively prevents calf diarrhea

Stops acute diarrhea
Rapid strengthening after diarrhea
THE EFFECT

The high electrolyte content (sodium, potassium, glucose) ensures rapid water absorption by the body and immediately provides the calves with urgently needed energy. Vitamins A, D, E, C and beta-carotene ensure rapid regeneration of damaged mucous membranes.

THE BENEFIT

STABISAN increases the vitality of sick and weakened calves - and increases their resistance. For a fast recovery and rapid further growth.

THE ADVANTAGES

Provides rapid absorption of water

Promotes recovery

Increases vitality and further growth

Increases resistance
STABISAN has a rapid strengthening effect thanks to high-quality ingredients
Natural apple pectin

ensures high water binding

Linseed cake and carob flour

act as natural mucilage and swelling agents

Yeast extracts and lactic acid bacteria

provide optimal protection of the intestinal villi
How to use STABISAN correctly:
Find your application areas
For the prevention of diarrhea
1 heaped measuring spoon (15 g) per meal over a period of 1 - 7 days.
For acute diarrhea or as a prevention for purchased calves.
2 heaped measuring spoons (30 g) of STABISAN per meal over a period of 1 - 3 days.

In case of continuing diarrhea, we recommend to consult a veterinarian!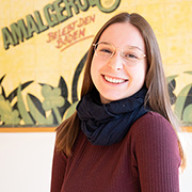 Do you have any questions?
"We'll be happy to help you. Give us a call!"
PRODUCT DATA
Composition
Apple Pectin, Linseed Cake, Carob Flour, Yeast (autolyzed), Sodium Bicarbonate, Sodium Chloride, Potassium Bicarbonate
Pack sizes
Bucket 1 kg
6 x 1 kg / box