AMALGEROL Starter
The starter fertilizer for optimal nutrient supply

The starter fertilizer for optimal nutrient supply
AMALGEROL STARTER gives you a head start in growth!
Optimize nutrient supply, increase yields - that's how important a starter fertilizer is
The nutrients stored in seeds are finite. Once they are used up, plants must take up nutrients from the soil in order to develop a powerful root system. A nutrient deficiency at this critical stage remains invisible at first, but inevitably means a loss of yield. A starter fertilizer counteracts the nutrient deficiency that often occurs in the cold, wet weather of spring - and thus secures your yields!
Optimal youth development
THE EFFECT

AMALGEROL STARTER ensures the nutrient supply of the plants. Right from the start. The seedlings are supplied with the important nutrients nitrogen, phosphorus, zinc and iron.

THE BENEFIT

Optimally supplied, the plants build up a powerful root system - the basis for a high yield. The starter fertilizer is suitable for all row crops such as corn, pumpkin, soybean, sugar beet, sunflower, field vegetables and potatoes.

THE ADVANTAGES

Optimizes the nutrient supply

Secures the yield

Suitable for all row crops
THE EFFECT

Micro-granulation guarantees uniform distribution of nutrients in the seed band. This allows the agricultural fertilizer to be deposited directly at the seed. The nutrients reach exactly where they are needed.

THE BENEFIT

The use of AMALGEROL STARTER does not mean any additional work. The fertilizer is applied in one operation during sowing.

THE ADVANTAGES

Ensures optimal nutrient distribution

Can be applied together with the seed
With biostimulant AMALGEROL ESSENCE
THE EFFECT

AMALGEROL ESSENCE relies on a combination of antioxidants, amino acids, herbal extracts, organic potassium & nitrogen to improve soil life and strengthen root growth.

THE BENEFIT

The biostimulant protects crops from stress-related cell damage, strengthens the immune system, improves nutrient supply and increases resistance to diseases and pests. Ideal conditions for optimal growth.

THE ADVANTAGES

Protects and regenerates

Promotes root growth

Activates soil life

Improves soil structure
How to use AMALGEROL Starter correctly:
Find your application areas
ROW CROPS
Corn, pumpkin, soy, sugar beet, sunflower, field vegetables, potatoes: 15 - 20 kg/ha into the seedbed during sowing.
TURF
15 - 20 kg/ha with the microganulate spreader.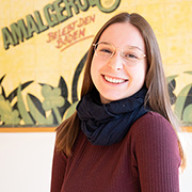 Do you have any questions?
"We'll be happy to help you. Give us a call!"
PRODUCT DATA
Composition
5 % AMALGEROL ESSENCE
5 % Nitrogen (N)
24 % Phosphorus (P2O5)
0,6 % Potassium (K2O)
1,7 % Calcium (CaO)
8,9 % Magnesium (MgO)
1,2 % Sulfur (SO3)
0,7 % Iron (Fe)
2 % Zinc (Zn)
Depending on national registration requirements, the exact composition may differ.
Values
Granulate size:
0,5 - 2,0 mm
pH-value:
5 - 6
Pack sizes
Bag 20 kg; 40 x 20 kg / pallet