BLACKYELLY
Promotes healing, care for the skin

Promotes healing, care for the skin
BLACKJELLY promotes healing after udder and udder inflammation.
Herbal extracts for natural well-being
Essential and herbal oils are a proven household remedy in veterinary medicine. For generations, knowledge of the warming, circulation-enhancing and "pulling" effects of herbal extracts has been passed down. Even today, the extracts are an excellent means to increase the well-being of animals in a natural way.
BLACKJELLY relies on herbal extracts that are produced according to an old Swiss recipe. A balance of different essential and other natural oils promotes the regeneration process in the body.
THE EFFECT

BLACKJELLY works by warming and promoting circulation on the one hand and "pulling" the hardening from the quarter on the other. When applied to the udder, BLACKJELLY supports veterinary treatment and contributes to natural healing.

THE BENEFIT

BLACKJELLY softens hardened quarters and promotes healing after udder inflammation. The animal care product can also be used for eczema that occurs on the inside of the thighs or at the base of the udder in performance cows.

THE ADVANTAGES

Softens hardened quarters

Supports healing in case of eczema

No effect on the taste of milk, no waiting time
BLACKJELLY: the natural skin care
THE EFFECT

BLACKJELLY can also be used to treat open skin areas. It is absorbed immediately and relieves itching.

THE BENEFIT

BLACKJELLY makes cracks, scaly skin areas and hardened tissue soft and supple again. The pet care product is best suited for the care of navel areas in young animals, where it also keeps flies away.

THE ADVANTAGES

Quick treatment of open skin areas

Relieves itching

Makes hardened tissue soft and supple

Cares for the navel areas of the young animals
BLACKJELLY acts with 100% natural ingredients
Plant oils

bind toxins and have an anti-inflammatory effect

Essential oils

have a calming effect and care for the skin

Shale oil

dissolves hardening of the quarter
How to use BLACKYELLY correctly:
Find your application areas
After udder inflammation
Apply thinly and rubb it into the udder twice daily about 1 week.
For skin care
Thoroughly clean the areas of skin, then thinly apply and rubb it in. Excellent for the inner thighs of dairy cows and the navel spots of young animals.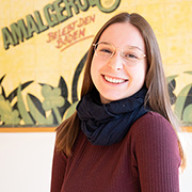 Do you have any questions?
"We'll be happy to help you. Give us a call!"
PRODUCT DATA
Composition
Animal care product for external use. Contains herbal and essentials oils, as well as shale oil.
Organic suitability
BLACKJELLY meets the requirements of regulation (EU) 2018/848 in the current version and is allowed for organic farming.
Pack sizes
Dosing pump 1.5 kg
8 x 1,5 kg / box
Bucket 10 kg