AMACOOL
Cool swellings, regenerate joints

Cool swellings, regenerate joints
AMACOOL: Rapid, effective cooling for mastitis
Effective help for udder inflammation

without affecting the taste of milk

Fast, effective cooling

and reduction of swelling

Supports the regeneration

of stressed joints
Acetic clay: Proven home remedy against mastitis
Acetic clay is a time-tested home remedy that has been an integral part of every stable pharmacy for centuries. By evaporating moisture, heat is conducted away from the body, allowing injuries to be cooled quickly. Acetic clay has also proven its worth as a supplement to veterinary mastitis treatment.
AMACOOL: Cooling and regeneration
THE EFFECT

AMACOOL combats swelling and cools stressed joints, tendons and muscles. At the same time, regeneration is supported in the case of joint, tendon and muscle complaints. For this purpose, AMACOOL combines acetic clay with herbal extracts produced according to an old Swiss recipe.

THE BENEFIT

Thanks to its cooling and regenerating effect, AMACOOL is ideal for supportive mastitis treatment. AMACOOL helps dry off your dairy cows and reduces the risk of udder swelling during the dry-off period. After calving, regeneration is supported for reddish udders.

THE ADVANTAGES

Rapid, effective cooling

Regeneration of stressed joints

Effectively helps with inflammation of the udder (mastitis)

Ensures rapid well-being

No influence on the milk taste, no waiting time
AMACOOL acts with 100% natural ingredients
Apple vinegar

has a cooling effect on injuries

Plant oils & herbal extracts

promote regeneration in case of inflammation

Clay

The evaporation of moisture dissipates heat from the body.
How to use AMACOOL correctly:
Find your application areas
Healing of udder infections
Apply AMACOOL thickly 2 – 3 times daily over a period of one week. Cools pleasantly and quickly. AMACOOL has no effect on milk taste. No waiting period!
Dry out of dairy cows
Coat the udder thickly with AMACOOL after the final milking.
Cooling swelling and leg regeneration
Apply thickly 2 x daily.
Do not apply to open wounds or mucous membranes.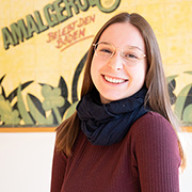 Do you have any questions?
"We'll be happy to help you. Give us a call!"
PRODUCT DATA
Composition
Animal care product for external use. Contains herbal extracts and acetic clay.
Organic suitability
AMACOOL meets the requirements of regulation (EU) 2018/848 in the current version and is allowed for organic farming.
Pack sizes
Tin 2,5 kg
6 x 2,5 kg / box
Bucket 12,5 kg